WOLFSSL / WOLFCRYPT ASYNC WITH INTEL QUICKASSIST
The wolfSSL / wolfCrypt libraries support asynchronous (non-blocking) crypto using hardware acceleration with the Intel QuickAssist adapter, which is a low-profile PCIe x8 (Gen 3) card that accelerates crypto operations. This allows greatly increased performance on server platforms requiring high connection rates and throughput.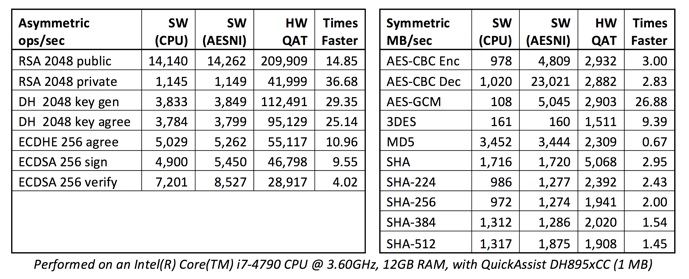 wolfSSL:
Client and Server (SSL/TLS)

Public Key infrastructure – Handshake / PKI (RSA, ECC, DH)

Encryption/ Decryption

Hashing / HMAC

Certificate Signing and Verification

wolfCrypt:
PKI: RSA public/private (CRT/non-CRT), ECDSA/ECDH, DH

Cipher: AES CBC/GCM, DES3

Digest: MD5, SHA, SHA224, SHA256, SHA384, SHA512 and HMAC.

Hardware simulator for testing/evaluation


DRBG and NRBG
Design:

The implementation is similar to epoll, which ensures that no function call will block. If a call would block waiting on hardware then `WC_PENDING_E` is returned and the hardware must be polled. For wolfSSL polling is done with either `wolfSSL_CTX_AsyncPoll` or `wolfSSL_AsyncPoll`. For wolfCrypt polling is done with `wolfAsync_EventQueuePoll` or `wolfAsync_EventPoll`.
For more information on the wolfSSL asynchronous features and using wolfSSL with Intel QuickAssist, please contact us at facts@wolfssl.com.