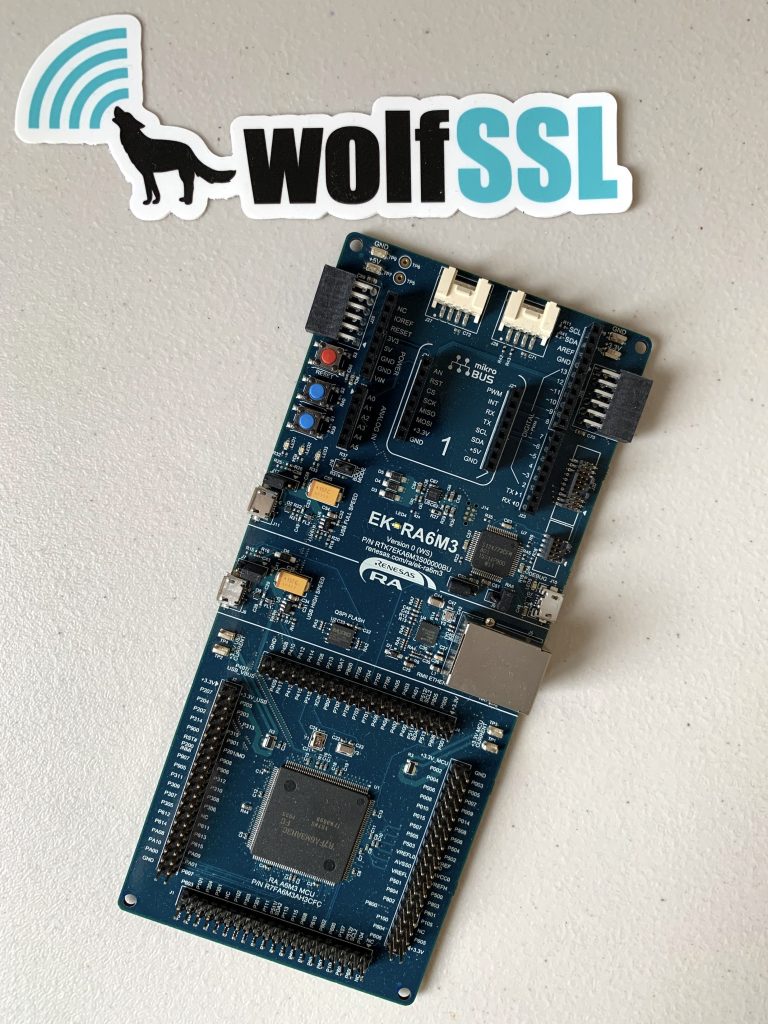 Is your team looking for a 32-bit MCU that boasts advanced security, performance, and connectivity for your next project in industrial / building automation, automotive or IoT?
Would you like peace of mind knowing that your product solution incorporates the best tested TLS / Cryptography libraries with blazing fast speeds on bare-metal and Amazon FreeRTOS environments?
If so, then check out the embedded-C wolfSSL TLS and wolfCrypt cryptography libraries on the Renesas RA Family of 32-bit MCUs with Arm Cortex-M Core.
wolfSSL is delighted to partner with Renesas to offer examples and solutions for Renesas RA devices.  Quickly get started with a Renesas EK-RA6M3G kit and the wolfSSL example projects.
The team at wolfSSL is excited to help you hit the ground running on your next project. We can also provide additional support through your product development and release cycle. Please feel free to ask us any questions.
More to come…
Progress is being made to support the Renesas RA cryptography accelerators within the wolfCrypt library. The hardware acceleration support will include ECC, RSA, AES, TRNG, and SHA-256 operations with the possibility of more in the future. We will announce support for hardware cryptography and benchmark results soon.
Why wolfSSL?
wolfSSL is a team that has passion and dedication to creating the best supported and best tested secure communication software products with outstanding performance on a host of operating environments.
We want you to focus your product development efforts on your core-features that your customers crave.
wolfSSL ensures peace of mind for your product development team; that their cutting-edge, disruptive innovations won't be disrupted by malicious hackers.
Allow us to help guide and expedite the necessary process of securing your device and communications.
[wolfSSL General Questions]
Email: facts@wolfssl.com
Phone: +1 (425) 245-8247
[wolfSSL Technical Support]
Email: support@wolfssl.com
[wolfSSL Open Source and Commercial Licensing Questions]
Email: licensing@wolfssl.com