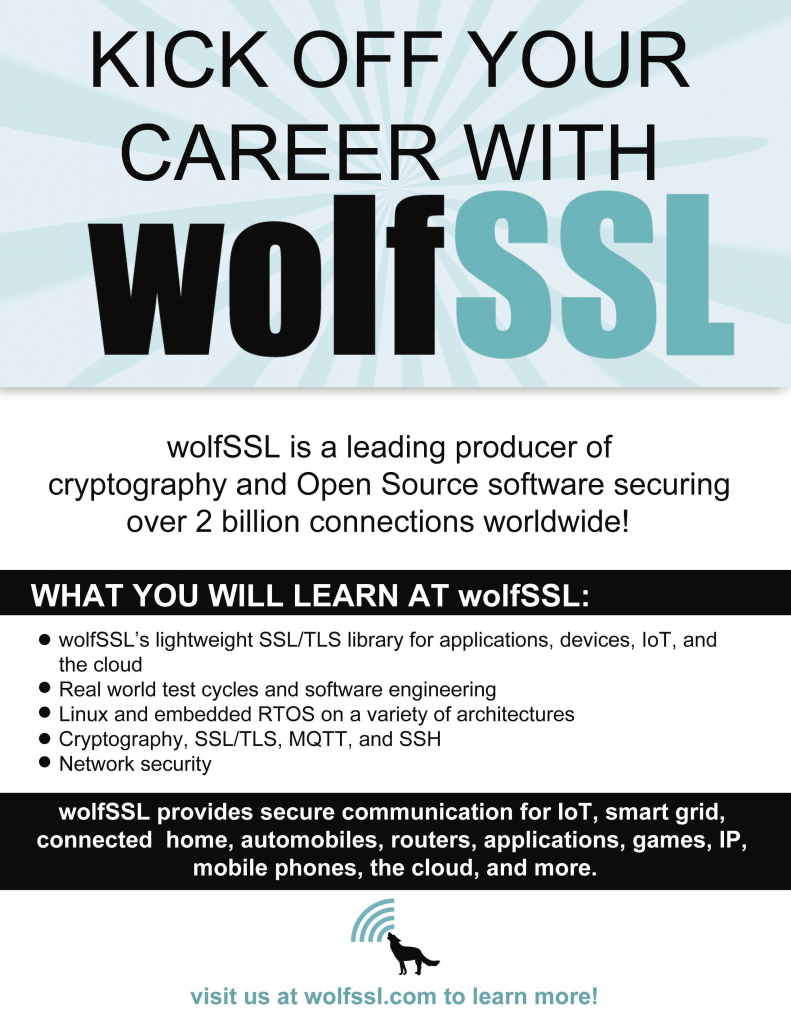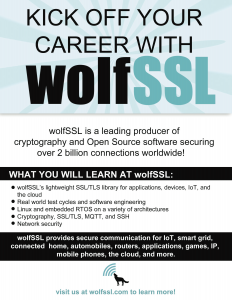 Are you a college or university student interested in application, device, and Internet security?  Do you want to learn about cryptography and the implementation and application of Internet protocols (SSL/TLS, SSH, MQTT, TPM)?  If so, consider applying for wolfSSL's 2023 Summer of Security internship program!
wolfSSL is the leading global producer of Open Source Internet security products, securing over 2 Billion active connections on the Internet today. The wolfSSL "Summer of Security" program is an internship which spans the Summer months (typically June – August, depending on class schedules) and brings qualified students on-board to learn about how security software is written, tested, and applied to real-world use cases.
---
Minimum Requirements
Currently pursuing a Bachelor's or higher degree in Computer Science, Computer Engineering, or a related technical field.
Experience and familiarity with C programming
Experience and familiarity with git/GitHub
Prior experience with embedded systems, network programming, or Linux/Unix are a plus, but not a hard requirement for application.
---
Location
The Summer of Security has been done remotely/virtual the last few years.  The 2023 internship will be remote eligible, but may include an option to work from the Bozeman, MT office depending on current health and safety conditions.
---
About the Job
Interns who participate in this program gain valuable knowledge in the SSL/TLS and security industry as well as C programming experience on Linux and embedded systems.  Throughout the summer, interns play a role in improving wolfSSL products – working on testing, documentation, examples, porting, marketing, and interacting with our community.
This program is a great opportunity to be part of the Open Source community, learn how real-world software is created and maintained, gain work experience in the field of Computer Science, and work towards a potential career with the wolfSSL team.
---
Apply Today!
If you are interested in learning more about the wolfSSL Summer of Security internship program, please send the following items to internships@wolfssl.com:
Resume with Cover Letter
C Programming Sample

A C application which best demonstrates your C programming ability.  There are no requirements on the category or length of the application. Applications which can be compiled and run by wolfSSL recruiters are preferred.

Technical Writing Sample

A writing sample which best demonstrates your writing ability.  There is no requirement of topic or length of this sample.
---
Learn More
wolfSSL Homepage
wolfSSL Products Page
wolfSSL User Manual
TLS 1.3 Support!
wolfSSL Examples Repository (GitHub)